What to Expect When Hiring an Interior Designer
Just as there are criteria while hunting for the perfect architect or wedding coordinator, the same goes for interior designers. A good designer can help you save time and money by avoiding expensive mistakes and oversights, as well as help your personality and tastes emerge and reflect in your home. Prepare to get quite cozy with your designer as they help your personality shine-through in your home.
Hiring an interior designer can be a very personal enterprise and a cost-effective route to take. Inviting a stranger into your space, and possibly assessing your style, can be a vulnerable undertaking (whether it's a complete re-model or simply refreshing those outdated curtains and overstuffed sofa). Consider finding a designer that understands this vulnerability and works with your tastes while moving your style forward.
Embarking on this journey with a designer can definitely save you money in the long run. There is nothing worse than custom ordering that $3000 sectional only to find out that it's too big or not big enough for your family room. Interior designers will plan out your space and take all the measurements for you. Keep in mind that designers are trained to engineer the entire space. They account for everything from furniture placement (including size and scale) to creating atmosphere with color, lighting, and accessories. They ensure that the whole house connects and the flow from room to room is easy and consistent.
"Find a designer who asks you questions to discover your unique style and what you like or don't like about your current space."
Cost is also something to consider when choosing a designer. Good designers can help you execute an efficient plan and avoid costly mistakes. Most designers here on the central coast charge hourly, ranging from $50/hour to $150/hour. Some designers will plan out your space for you and then let you go from there. Others will shop with you and help you pick out items for your home.
When investigating designers, it's important to understand their billing structure so there aren't any surprise costs. Consider a designer who has access to multiple manufacturers so that they can help you find what you need in your price range.
With everything they know and are trained in, remember that this is your home, and ideally, your designer needs to be hearing you and what you want. Find a designer who asks you questions to discover your unique style and what you like or don't like about your current space. A good designer will help guide you in the process. It's good to have an abstract idea or different photos of what you like. Your designer can certainly work with you to whittle it down to really let your personality shine-through.
Modelhom has been in the interior design industry for 14 years and have helped thousands of people re-design their homes. Contact Us or call 805-489-4277 for your next furniture purchase or design project.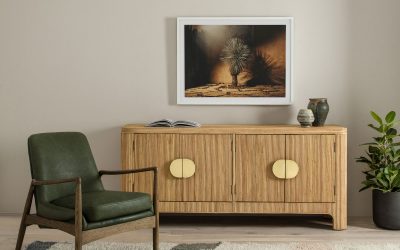 FURNITURE + DESIGN Furniture Trends You Can Expect to See in 2020by Nadia Deering As we welcome a new year, we can look forward to fresh furniture trends. We've compiled a list of trends that we can look forward to seeing as we kick off a new decade. Here is a glimpse...
read more